Learn How to Rent a Roll-off Dumpster with Bargain Dumpster
If you're not sure where to start or what questions to ask when you're renting a dumpster for the first time, we have you covered. Learning how to rent a dumpster or a refresher course on what to look for never hurts. Whether you're a first-time renter or a contractor who calls us regularly every other day, you're going to get The Best Bargain. When you call, one of our customer service representatives will walk you through the entire process and answer any questions you might have for your specific needs. With every rental order, we provide information on how to avoid additional fees and save on your dumpster. Call 1-800-856-2896 to learn how to order a dumpster and a Free Quote Today!
How to Rent an Affordable Dumpster
Renting a dumpster only takes a few steps that we provide for you in one call:
Call for your free quote.

A customer service expert will ask about your project, location, rental period, and provide a quote based on the type of waste and volume.

Get Competitive pricing.

All of our dumpsters come with upfront pricing based on delivery, landfill disposal, pickup, rental period and the type of materials being thrown out. Our experts will go over any items and guidelines that could cost you more.

Schedule delivery.

 

Based on the size container needed, we are able to get it out to your project site the same or the next day you place your order. We'll also call you when it's delayed or any issues come up so you know you're taken care of.

Call for

pickup.

 

After you fill your dumpster to the appropriate level, call to

schedule your pickup

or

call to swap

it out for a new one.
Tips for Renting a Dumpster
Does Size Matter? That all depends on the context and with dumpsters, you can't really ever go too big. As one of the largest mistakes when ordering a dumpster for the first time, people can overestimate and even underestimate the amount of waste a project will produce. So What Size do I choose?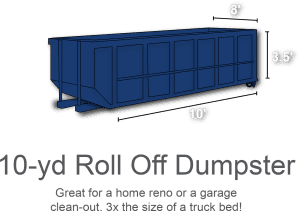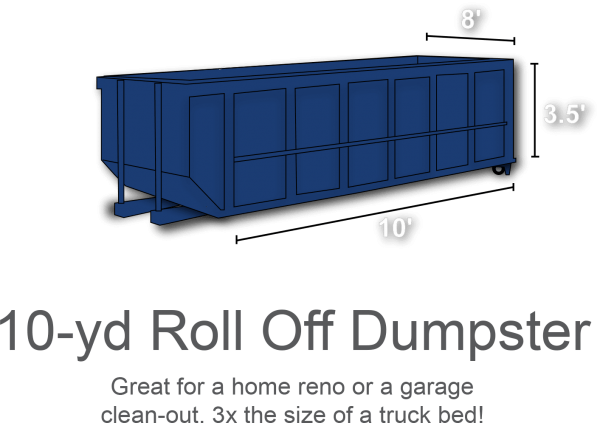 The 10-yard dumpster is ideal for small remodeling projects like remodeling a single bathroom or medium cleanouts like a deck that's 300 square feet or a shingle roofing removal job that's under 1,500 square feet. These hold 10 cubic yards of material or about 3 pickup trucks.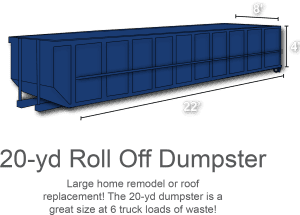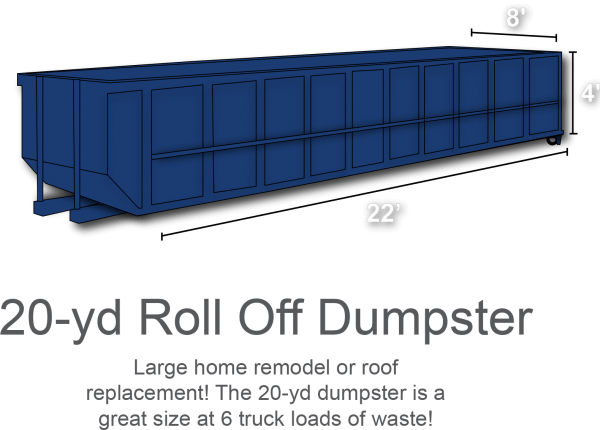 The 20-yard dumpster is perfect for medium-sized remodeling projects or for major cleanouts such as an entire house carpet removal for a large home, or a shingle roofing job over 1,500 square feet. They hold 20 cubic yards of material or about 6 pickup trucks.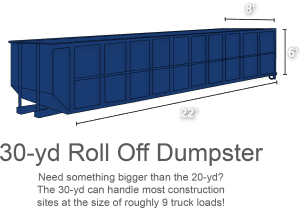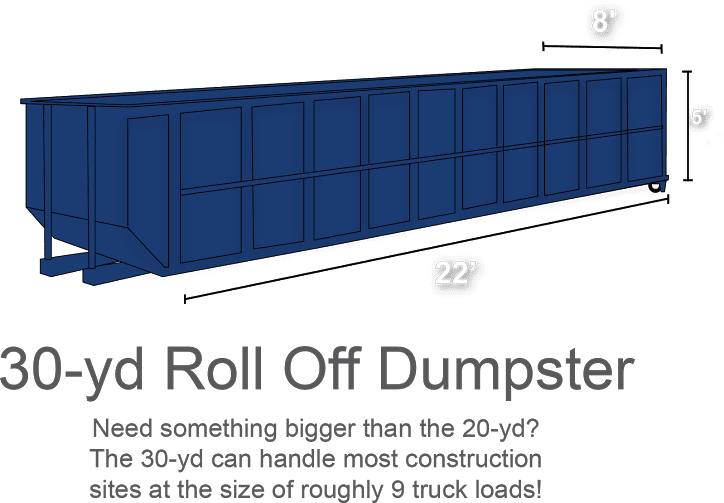 The 30-yard dumpster is normally used more for commercial purposes, a major home addition, new construction sites or long rental periods. They hold 30 cubic yards of material or about 9 pickup trucks.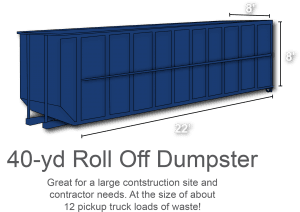 The 40-yard dumpster is the largest size and more commonly used for commercial and industrial purposes but is great for the entire window or siding replacement jobs. They hold 40 cubic yards of material or about 12 pickup trucks.
Know Your Trash An important thing to note and bring up when you call to rent a dumpster is telling us what type of waste you will be using the rental for. Based on the location, amount, and laws that govern how certain types of waste should be handled in your state, we don't want you getting additional charges for accidentally mixing materials or putting prohibited items in the mix. Another thing to note is the weight, as going over the weight allowance is enforced by the landfill where the waste is taken for disposal.
Don't Dump that It is against the law to dispose of hazardous waste. Such waste includes chemical products, oil filters, herbicides, pesticides, radioactive materials, solvents, paint, flammable liquids, partially filled aerosol cans, propane tanks, motor oil, transmission oil, lubrication/hydraulic oil, contaminated oils, lead paint chips, tires, batteries, fluorescent tubes, railroad ties, medical waste, asbestos, dead animals, sealed barrels/cylinders. The extent of waste laws does vary state to state but these are the general items that are never allowed. Save money and dump it right. If you're also not sure if your waste is acceptable,

give us a call

.

Call Us for the Best price now

, this last tip is crucial. But why? You can always call around and shop for the best price but are you calling everyone? Our dedicated team of experts are always on the phone comparing our prices and seeing how much more expensive everyone else is. And If there's a lower price, let us know. We strive on having the most affordable, competitive pricing on rentals and with price changes almost every day varying from area to area we can't always catch them all but we will take care of you.
Our Reviews
---
"Excellent Service"
This was our first home renovation and we had never rented a dumpster before. They were...
-John P. 5/27/2019 5/5 Star Rating on Sitejabber
Recycling in Charlotte The city of Charlotte, NC is taking strides to promote sustainability and reduce pollution through several initiatives to promote recycling. Charlotte is one of the most environmentally conscious cities in the United States, with a variety of recycling initiatives designed to reduce waste and protect the environment. The city's recycling program is […]
The City of Raleigh is taking strong steps towards creating a sustainable and healthy environment for its citizens. In an effort to reduce pollution and improve waste management, the city has launched a number of initiatives to encourage more recycling. These include providing dumpster rentals for citizens to use for recycling, organizing events to promote […]
North Carolina faces several pressing waste management and pollution issues. From dumpster rentals and recycling to junk disposal and sustainability, the state is looking for ways to reduce its environmental footprint and improve its waste management processes. Introduction to Waste Management and Pollution Issues in North Carolina The state of North Carolina is committed to […]