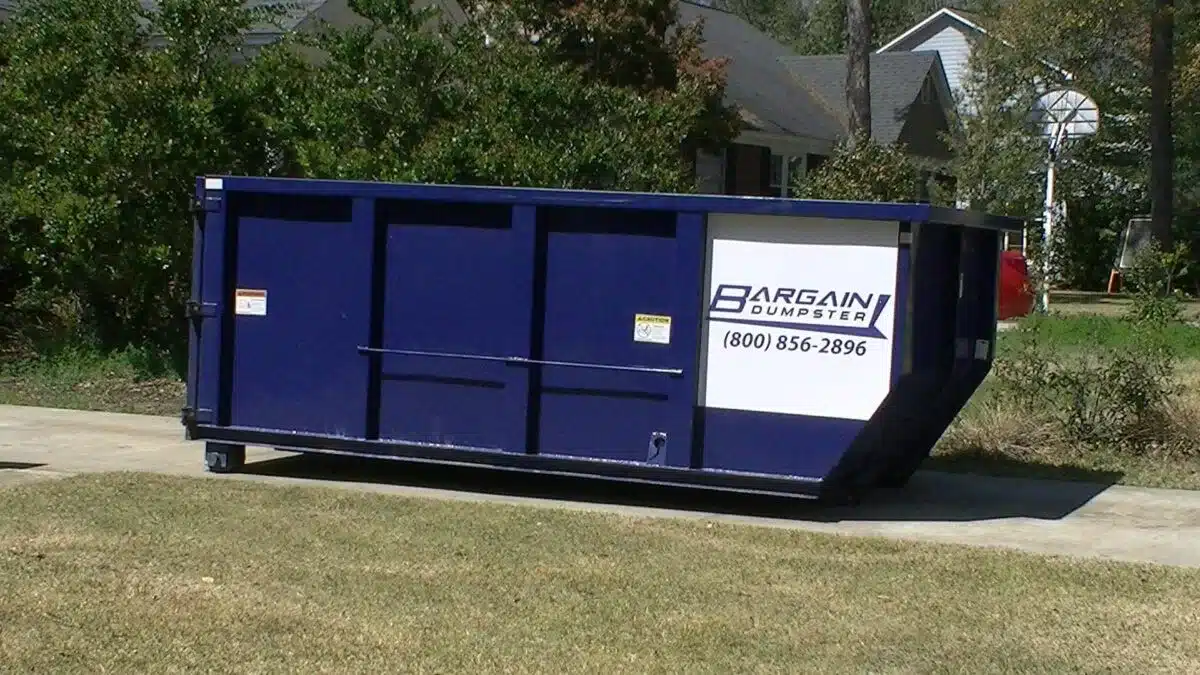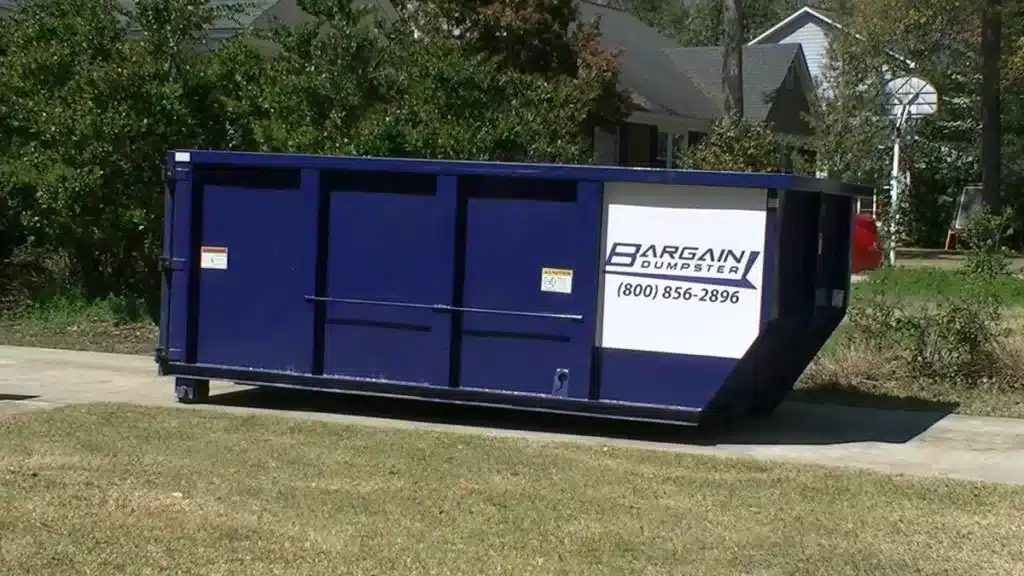 Learn How to Rent a Roll-off Dumpster with Bargain Dumpster
If you're not sure where to start or what questions to ask when you're renting a dumpster for the first time, we have you covered. Learning how to rent a dumpster or a refresher course on what to look for never hurts. Whether you're a first-time renter or a contractor who calls us regularly every other day, you're going to get The Best Bargain. When you call, one of our customer service representatives will walk you through the entire process and answer any questions you might have for your specific needs. With every rental order, we provide information on how to avoid additional fees and save on your dumpster. Call 1-800-856-2896 to learn how to order a dumpster and a Free Quote Today!
How to Rent an Affordable Dumpster
Renting a dumpster only takes a few steps that we provide for you in one call:
Call for your free quote.

A customer service expert will ask about your project, location, rental period, and provide a quote based on the type of waste and volume.

Get Competitive pricing.

All of our dumpsters come with upfront pricing based on delivery, landfill disposal, pickup, rental period and the type of materials being thrown out. Our experts will go over any items and guidelines that could cost you more.

Schedule delivery.

 

Based on the size container needed, we are able to get it out to your project site the same or the next day you place your order. We'll also call you when it's delayed or any issues come up so you know you're taken care of.

Call for

pickup.

 

After you fill your dumpster to the appropriate level, call to

schedule your pickup

or

call to swap

it out for a new one.
Tips for Renting a Dumpster
Does Size Matter? That all depends on the context and with dumpsters, you can't really ever go too big. As one of the largest mistakes when ordering a dumpster for the first time, people can overestimate and even underestimate the amount of waste a project will produce. So What Size do I choose?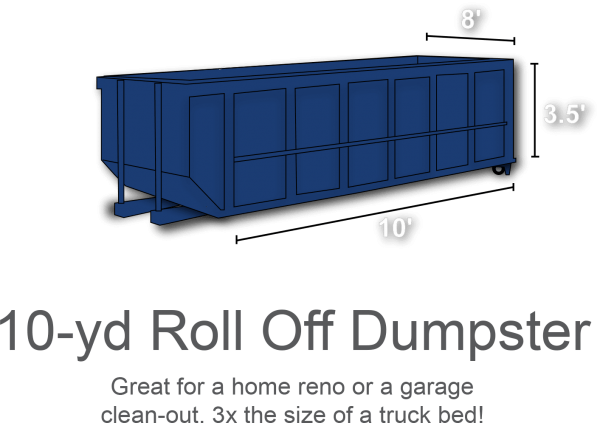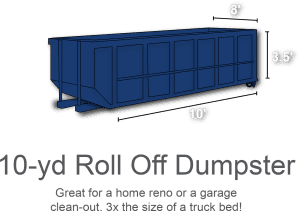 The 10-yard dumpster is ideal for small remodeling projects like remodeling a single bathroom or medium cleanouts like a deck that's 300 square feet or a shingle roofing removal job that's under 1,500 square feet. These hold 10 cubic yards of material or about 3 pickup trucks.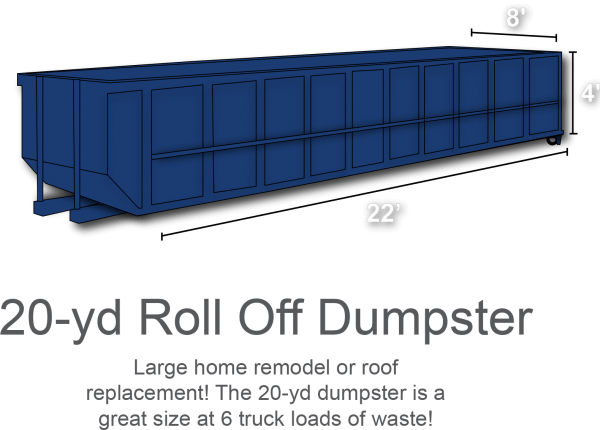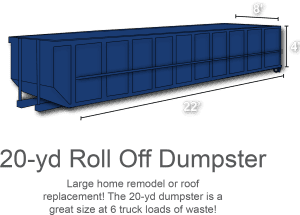 The 20-yard dumpster is perfect for medium-sized remodeling projects or for major cleanouts such as an entire house carpet removal for a large home, or a shingle roofing job over 1,500 square feet. They hold 20 cubic yards of material or about 6 pickup trucks.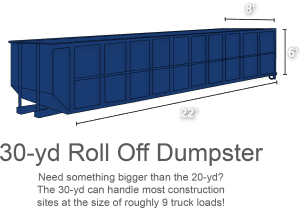 The 30-yard dumpster is normally used more for commercial purposes, a major home addition, new construction sites or long rental periods. They hold 30 cubic yards of material or about 9 pickup trucks.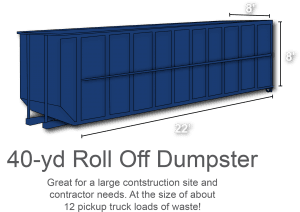 The 40-yard dumpster is the largest size and more commonly used for commercial and industrial purposes but is great for the entire window or siding replacement jobs. They hold 40 cubic yards of material or about 12 pickup trucks.
Know Your Trash An important thing to note and bring up when you call to rent a dumpster is telling us what type of waste you will be using the rental for. Based on the location, amount, and laws that govern how certain types of waste should be handled in your state, we don't want you getting additional charges for accidentally mixing materials or putting prohibited items in the mix. Another thing to note is the weight, as going over the weight allowance is enforced by the landfill where the waste is taken for disposal.
Don't Dump that It is against the law to dispose of hazardous waste. Such waste includes chemical products, oil filters, herbicides, pesticides, radioactive materials, solvents, paint, flammable liquids, partially filled aerosol cans, propane tanks, motor oil, transmission oil, lubrication/hydraulic oil, contaminated oils, lead paint chips, tires, batteries, fluorescent tubes, railroad ties, medical waste, asbestos, dead animals, sealed barrels/cylinders. The extent of waste laws does vary state to state but these are the general items that are never allowed. Save money and dump it right. If you're also not sure if your waste is acceptable,

give us a call

.

Call Us for the Best price now

, this last tip is crucial. But why? You can always call around and shop for the best price but are you calling everyone? Our dedicated team of experts are always on the phone comparing our prices and seeing how much more expensive everyone else is. And If there's a lower price, let us know. We strive on having the most affordable, competitive pricing on rentals and with price changes almost every day varying from area to area we can't always catch them all but we will take care of you.
Darcy Assemany
September 18, 2023
Bargain Dumpster was a life saver! We had a tree go down in the storm and Ashley was able to get us a dumpster right away. They dropped it off, we filled it up over the weekend and they picked it up promptly. Very professional and friendly service! We will be doing business with Bargain Dumpster for any future needs!!
Jackson Smith
September 13, 2023
I don't usually write reviews but this company was great! They showed up on time and dropped the dumpster without damaging our driveway. Recommended!
Quintina Eisenhower
September 12, 2023
Excellent company to use for junk disposal projects! I have used them three times for all my clean out projects and all the time they were on time with the drop off and pick up. I strongly recommend them!
Don Cassidy
August 29, 2023
Ashley was extremely helpful she made the process very easy and due to her professionalism inwill highly recommend your company to others. You guys better try to keep her on staff. I know upper managment talent when I see it!
Evan Dowdy
August 24, 2023
Can't speak highly enough about the Bargain Dumpster team, Ashley's communication and promptness have been a blessing for our company.
Patrick Delaney
August 24, 2023
Great service and super easy to work with!
Manuel Robles
August 23, 2023
Erin and the team have always been very responsive and accommodating. Many times they went the extra mile to make sure they can get us the equipment we needed especially with the last minute changes we may have had.
Shane Abuhl
August 23, 2023
As a traveling project manager that covers 12 states I'm very thankful to have Bargain Dumpster as my supplier. Having Ashley A as my rep, has been nothing but the best. She is able to get me everything I need as fast as I need it and within the price I need it to be. Without her my job would be 10 times harder, especially in the middle of a disaster. Thank you Ashley A for all your hard work! Because of her, I will continue to use Bargain Dumpster as long as I can.
Daralyn Sossamon
August 23, 2023
Will definitely be using again!!! Ashley A was so thorough in explaining everything and patient with my 1,000 questions. She was beyond detailed and professional! Our driver showed up on time and was very polite and helpful as well. Can't say enough good things about first impressions and both of them set the bar very high. Highly recommend!!!
Kaitlin Healey
August 23, 2023
This company is very easy to work with and very professional! They had a dumpster ready for me very quickly and the communication was great. I have used them twice and would use them again.
Continuing where we left off in our previous post let's begin with: Inspect the Roof and Attic Your roof is your home's first line of defense against the elements, and it's essential to ensure it's in good condition before fall and winter arrive. Start by visually inspecting your roof for any signs of damage or […]
As the vibrant colors of summer fade away and the crisp, cool breeze of autumn sets in, it's time to turn our attention to the maintenance and preparation of our homes for the fall season. The transition from summer to fall brings its own set of challenges and considerations for homeowners. In this comprehensive guide, […]
As the summer season gradually yields to the crisp embrace of autumn, Labor Day weekend emerges as a golden opportunity to bid farewell to the warmth and indulge in a few days of well-deserved leisure or exhilarating escapades. Whether your heart longs for a serene solo retreat, a romantic couple's getaway, or a rambunctious family […]