There are many reasons you might need to rent a dumpster, but unless you own a construction company you most likely won't know what size dumpster to get. More important unless you are very familiar with dumpsters in general, you won't have any idea of how much the material waste will weigh. Your total dumpster waste weight will be dependent on the materials that you are using on a given project. Materials weight varies, from roofing shingles, home siding, brush removal, home renovation materials, and/or flooring – each material will provide you with a different total dumpster waste weight.
Roll-off dumpsters are measured by how many cubic yards of waste they can hold. Generally speaking, the options are 10 yards, 20 yards, 30 yards, and 40 yards.
Still not sure of what size Dumpster you will need? You can also ask the sales staff at Bargain Dumpster. They've worked with clients for every project type and they know what will fit in each size dumpster.
Always be sure to tell the staff at Bargain Dumpster what you plan to put in your dumpster. This will not only help them give you an accurate recommendation, it will also mean you're not surprised by any restrictions.
Infographic to help understand the weight of your dumpster waste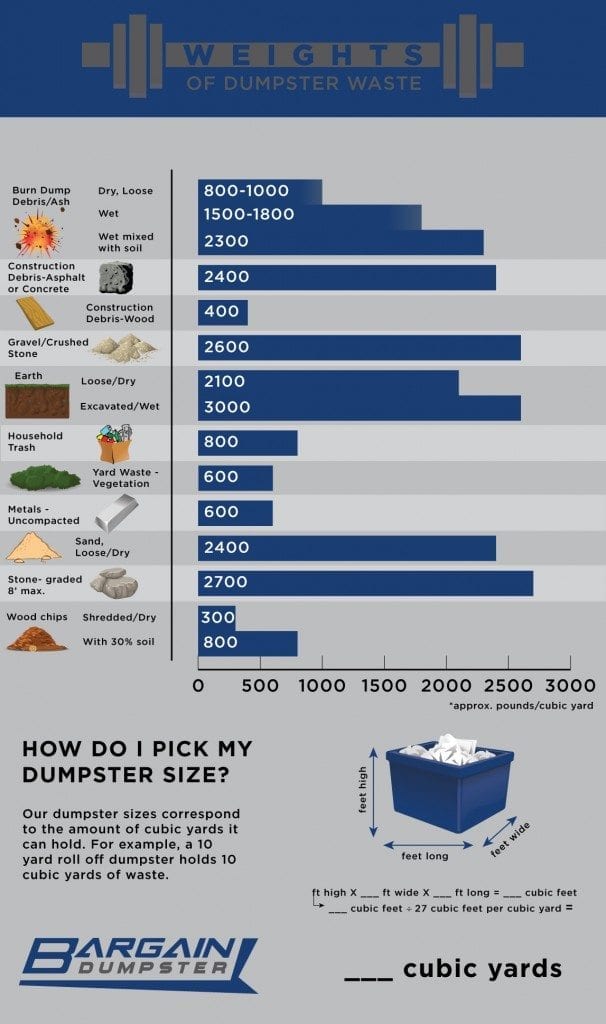 Here are a Few Tips to Stay Within Your Weight Limits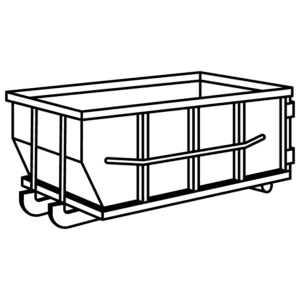 Size it Right
Let us assist you in selecting the ideal dumpster size from our range, ensuring a perfect match for your project. Say goodbye to concerns about exceeding weight limits!


Fill it Smartly
Guide heavy items through the swinging door of the bin and distribute the contents evenly within the container. Our team will provide guidance on the appropriate height for your specific debris to prevent overloading the dumpster.


Call with Any Questions
We're at your service. Whether you have more debris than expected or questions about specific items, our expert team is just a call, text, or email away.
Ready to Rent a Dumpster? Give Us a Call
Dumpster Weight FAQs
General
How is the weight priced for our dumpsters?

The weight of your dumpster significantly influences the cost, as landfills typically charge per ton. Once we collect your container, your debris is weighed at the landfill, and the cost is determined according to their fee structure.

Simplify your budgeting with our flat-rate pricing, encompassing disposal costs for a specified weight limit. As long as you stay within that limit, you'll have a clear upfront understanding of your expenses—no need to speculate or wait until your debris reaches the landfill.

How much weight can a typical truck carry

Although the typical dumpster truck has the capacity to carry around 10 tons or 20,000 pounds, weight restrictions commonly range from 2 to 6 tons or 4,000 to 12,000 pounds to ensure secure transportation.

How do I estimate what my dumpster will weigh?

We'll inquire about the items you're discarding to assess the weight of your debris. This enables us to recommend the appropriate bin size for your project. Additionally, you can utilize our dumpster weight calculators for a preliminary estimate.

How do we weigh our dumpsters?

Upon arrival at the landfill, the dumpster is weighed, and the process is repeated after the debris is emptied. The variance between these two weights is then employed to calculate the weight of your debris and determine the disposal cost.

How many pounds are in a ton?

A ton equals 2000 pounds.

What does scrap metal weigh?

Scrap metal weighs approximately 225 pounds.
Additional Resources at Your Fingertips
We know the dumpster rental process can be confusing at times.  Check these tips and guides to become better educated for your next project.
Have any additional Questions?
Call us today and we would be happy to walk you through the rental process.