Construction Dumpster Rentals for All Contractors
Construction dumpster rentals are known to help contractors make their commercial projects simpler to deal with. Bargain Dumpster vendors across the United States can help contractors save time and money through the construction process by offering easy waste disposal. Keep your construction site clean and running smoothly with our affordable and convenient rental process.
Whether it's one project or many across multiple states, we've got you covered.
Benefits of a Construction Roll Off Dumpster Rental
Every construction project, regardless of its size or nature, is bound to face the challenge of debris accumulation. Luckily, a construction dumpster rental offers a swift and uncomplicated solution for waste removal. This local dumpster company ensures that your project stays on track without the added hassle of seeking alternative waste solutions.
Efficient Debris Management:  A construction roll-off dumpster rental provides a convenient and centralized solution for managing construction debris, allowing for efficient and organized waste disposal during and after the project.
Time and Schedule Management:  Renting a roll-off dumpster ensures timely waste removal, preventing clutter and delays in the construction process. This proactive waste management contributes to keeping the project on schedule and minimizing disruptions.
Versatile Waste Disposal:  Construction roll-off dumpsters accommodate various materials, including concrete, wood, metal, and other construction debris. This versatility simplifies the disposal process, allowing for the conveniently removal of various materials from the construction site in a single container.
Concrete, Dirt, & Heavy Debris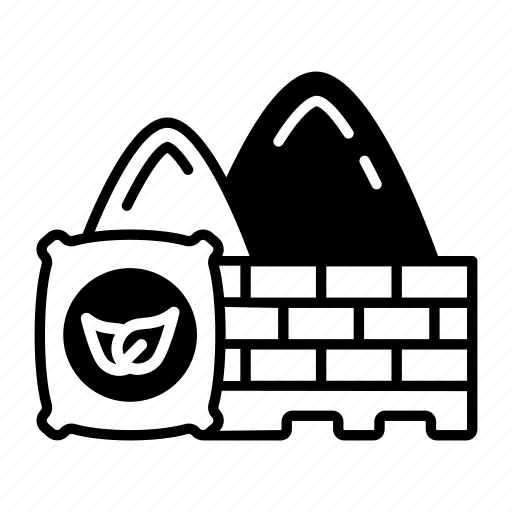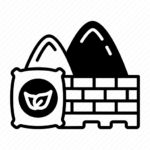 Managing substantial amounts of concrete and dirt during a construction project can be exceptionally stressful. Fortunately, Bargain Dumpster offers an ideal solution with its construction waste dumpster rentals, designed to alleviate the burden associated with heavy loads. Our robust construction dumpsters are specifically engineered to handle large quantities of concrete and dirt effectively. Whether you're dealing with a small project or a large construction site, our dumpsters are equipped to efficiently remove all types of waste.
Stress-Free Waste Handling:  Bargain Dumpster's construction waste dumpster rentals provide a stress-free solution for managing heavy loads of concrete and dirt during construction projects.
Heavy-Duty Construction:  Our dumpsters are built to withstand the toughest challenges, ensuring they can handle any amount of concrete and dirt with ease, maintaining durability and reliability.
Comprehensive Waste Removal:  Capable of efficiently hauling away all types of waste generated on a construction site, our dumpsters offer a comprehensive solution for keeping the work area clean and organized.


Don't dismiss the thought of utilizing our expansive construction dumpster rentals for commercial landscaping and yard cleanup ventures. Our dumpsters are well-equipped to manage the substantial waste associated with yard work effortlessly. Whether you have mounds of dirt to dispose of or piles of plants to replace, our heavy-duty construction dumpsters offer an optimal solution for discarding these items. Once your project is complete, we'll take care of removing all the waste, providing you with a hassle-free cleanup experience.
Versatile Solution for Yard Waste:  Our large construction dumpster rentals offer a versatile solution for commercial landscaping and yard cleanup, easily accommodating the disposal of large amounts of waste associated with these projects.
Efficient Handling of Bulk Debris:  From mounds of dirt to piles of plants, our heavy-duty construction dumpsters are designed to efficiently handle and dispose of various types of bulk debris generated during yard work.
Convenient Waste Removal Service:  Take advantage of our comprehensive waste removal service – once your project is complete, we'll promptly and responsibly remove all the accumulated debris, leaving you with a tidy and cleared space.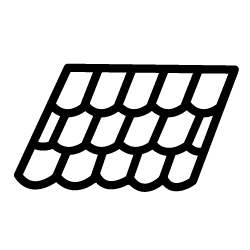 If you're in search of budget-friendly options, roofing contractors need look no further! Bargain Dumpster is your solution for affordable roofing choices. Our construction dumpster rentals provide a cost-effective means of disposing of various roofing materials, from shingles to siding, making the entire process accessible and economical.
Budget-Friendly Roofing Solutions:  Bargain Dumpster caters specifically to roofing contractors, offering affordable options that align with budgetary considerations, ensuring cost-effectiveness without compromising on quality.
Comprehensive Roofing Material Disposal:  Our construction dumpster rentals are designed to handle a variety of roofing materials, including shingles and siding, providing a comprehensive solution for the efficient disposal of debris generated during roofing projects.
Affordable and Convenient Dumpster Rentals:  Enjoy the convenience of affordable construction dumpster rentals tailored for roofing needs, streamlining the disposal process and making it both accessible and cost-effective for contractors.
Construction Dumpster Rental Costs
Opting for a construction debris dumpster rental offers the most cost-effective solution for your disposal needs. Our trucks can transport a significantly larger volume in one trip compared to twelve trips with a pickup, saving you valuable time and reducing fuel expenses. Nationally, the average cost of renting a construction dumpster is $450, varying between $210 and $1,100. However, these costs are contingent on factors such as container size, the type of debris, and your location.
Explore the cost averages for our frequently used construction container sizes in the provided table. For a complimentary project quote, feel free to reach out to us at any time at 888-229-9302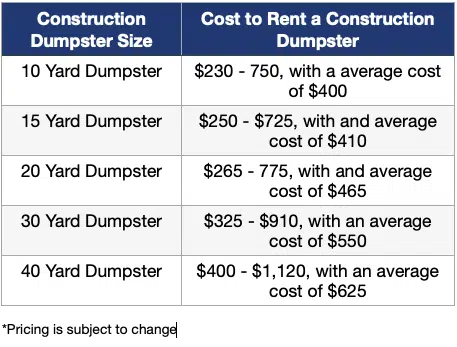 Wondering What Can Go Into a Construction Dumpster
Our service for construction waste disposal is equipped to manage diverse types of debris originating from your construction or demolition site. Across most regions, we readily accept a comprehensive range of common construction debris for efficient removal, which includes: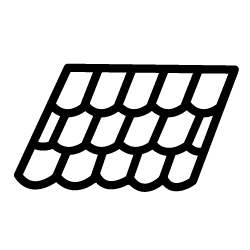 Shingles and Roofing Underlayment
This includes tiles, felt, roofing gravel, as well as flashing.


Yard Waste
Includes, branches, stumps, root balls, dirt, uprooted shrubs and more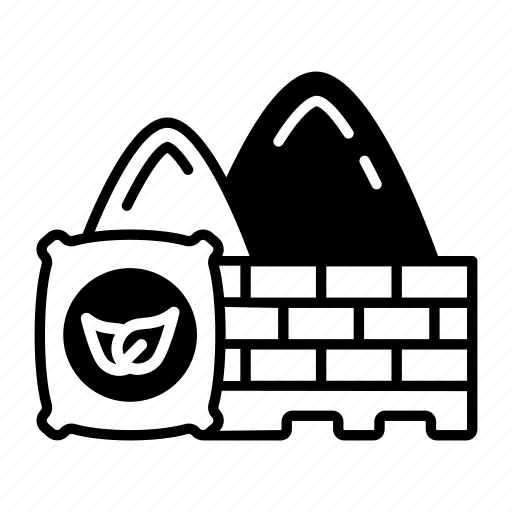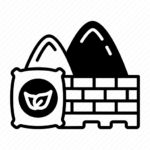 Heavy Debris
Includes bricks and asphalt, concrete, blocks


Building Materials
Drywall, all types of siding, flooring, lumber, and more
If you have something that is not listed?  Give our team a call and we would love to discuss it with you.
Our Construction Dumpster Rentals are Ready for Immediate Delivery
Rent construction dumpsters for a variety of projects, including roofing, demolition, and ground-breaking endeavors. Streamline the disposal process for materials like concrete, dirt, rock, plaster, tile, glass, wood, roofing materials, asphalt, drywall, branches, and virtually any other waste you need to eliminate swiftly and effortlessly. We recognize the distinct requirements of contractors and are prepared to address any inquiries regarding waste disposal. Our experienced customer service representatives and committed haulers are ready to assist, ensuring clarity and preventing potential delays. Trust our team to handle the scheduling, delivery, and pickup of your roll-off waste containers at cost-effective rates.


Have any additional Questions?
Call us today and we would be happy to walk you through the rental process.