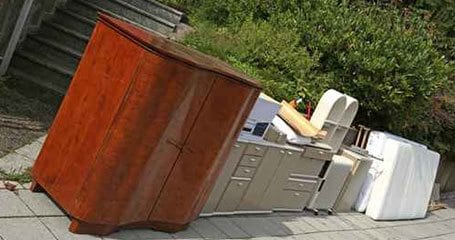 Bulk Waste Disposal 
Do you have some large items at your house that you just don't know what to do with? Read below on some great bulk waste disposal tips
Appliances
How do I know when my appliance is ready to be thrown out?
Age: If it's been over 10 years, it's probably time for a new one. Not many appliances are built to last much longer than that and continue to perform well.
Noise: If your appliance is making a really loud, disturbing noise, you should definitely consider getting a new one.
Repairs: If it's getting to the point where you're collectively starting to spend more money repairing the appliance than just buying a new one, then just bite the bullet and find a better model.
Electronics
When should I donate instead of dispose?
Age: Your electronic is less than five years old
Function: If it still functions reliably
Repairs: If no major repairs or parts replacements are required
Furniture
There are only two options for most furniture: recycling or throwing away. Here's how to determine your best option:
Condition: no need for repairs
Appearance: no rips, stains, scratches or odors
Infestation: there are no bedbugs, fleas are other pests in the items
Mattresses
When should I replace my mattress?
Age: Check the tag on your mattress for the manufacturing date. If it's over 10 years old, it's time for a new one.
Signs of Wear: If your mattress has rips, stains, frayed edges or compression, you should probably look into getting a new one.
Depending on the state of your items, here are some options to consider when disposing of bulky items:
Donate them to a local charity, community center or nonprofit organization. Check with your local organizations to see what kinds of appliances and furniture they accept and if they provide pick-up services. Organizations could include: Goodwill, Salvation Army or Habitat for Humanity.
Recycle them at a local facility or through a government program, but call ahead to see where exactly your appliances can go. With electronics, check if the manufacturer has a take-back program or if a local electronics store will recycle them for you.
Dispose of them by taking them to a local dump or using a dumpster rental or curbside service. Make sure to ask if your appliance or electronic is suitable for throwing in a dumpster or if there are additional fees.

Hint: the appliance cannot contain refrigerant.
Hint: electronics contain substances like lead and mercury that can be harmful Hint: Some landfills charge fees to dismantle furniture
Hint: municipal trash services won't take mattresses
If you decide to donate your items, remember to claim them with your next tax deductions. If you want to claim a deduction, however, you must follow certain guidelines based on the worth of the items:
| | |
| --- | --- |
| Worth | Requirements |
| Less than $250 | None |
| Between $250 and $500 | Receipt and written acknowledgement from organization |
| Between $500 and $5,000 | Receipt, written acknowledgement and completed Form 8283 (explains how you acquired item) |
Before making a final decision on any disposal method, make sure to do your research. Every location varies, so look into where the need is in your city and make sure to ask about additional recycling or disposal fees. Once all of that is done, it's out with the old and in with the new!  Call Bargain Dumpster at (803) 573-0003 we are always here to help.