8 Yard Commercial Dumpster
This 8 yard commercial dumpster rental is the largest front loader dumpster we offer, and is perfect for a wide variety of larger commercial clean up projects. Whether you need it for cleaning out an apartment complex doctors' office, or other commercial location, this 8 yard commercial dumpster rental can provide you with the capacity needed for nearly any larger project.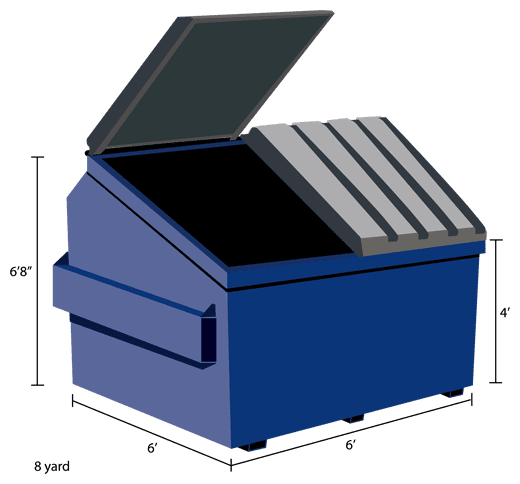 8 Yard Commercial Dumpster Capacity
8 yard dumpsters are among the most popular sizes offered here at Bargain Dumpsters, holding approximately 48 large trash bags, or 96 regular trash bags. They are a great choice to use for waste disposal at apartment complexes, healthcare facilities, grocery stores, shopping centers, and many other businesses. We also provide delivery to your location for optimum convenience.
8 Yard Commercial Dumpster Rental Cost
The pricing for an 8 yard commercial dumpster rental will depend on the specifications of the project, but we work to keep our rentals affordable for every customers. Contact us at any time for a comprehensive and accurate rental quote for one of our dumpsters today, and we'll provide you with dumpster rental that gives you everything you need.
You can also ask about our other dumpster sizes if you need a smaller size for your commercial cleaning project, with 2, 4, and 6 yard dumpsters available.