4 Yard Commercial Dumpster
If you have a smaller commercial cleanup project planned, but need more space than our 2 yard dumpster offers, this 4 yard commercial dumpster rental is ideal for many different types of commercial clean up projects. Whether you need to clean out a retail store, small office building, or another type of commercial location, this 4 yard dumpster rental can give you what you need to keep clean up convenient and efficient.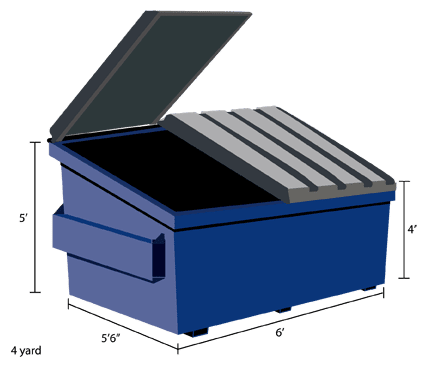 4 Yard Commercial Dumpster Capacity
4 yard dumpsters hold approximately 24 large bags of trash or 48 regular trash bags, making them perfect for cleaning small office buildings, churches, and service stations. We also deliver them to your location for maximum convenience, which keeps setup simple and efficient.
4 Yard Commercial Dumpster Rental Cost
The pricing for a 4 yard commercial dumpster rental will vary depending on the project, but we always work to keep our services consistently affordable. Contact us today for an accurate and detailed rental quote for one of our dumpsters today, and we'll provide you with a top-quality dumpster rental that gives you everything you need for efficient trash disposal.
You can also ask about our other commercial dumpster rentals if you need a smaller or larger size for your cleaning project, with 2, 6 and 8 yard dumpsters available.