2 Yard Commercial Dumpster
If you're planning on cleaning out your work space but don't require a large dumpster, this 2 yard dumpster rental is perfect for a variety of smaller projects. Whether you need to clean up an office, retail outlet, or another commercial location, you'll benefit from renting this 2 yard dumpster for your next project.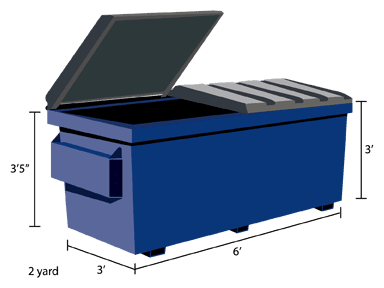 2 Yard Commercial Dumpster Capacity
2 yard dumpsters hold approximately 12 large trash bags, or 24 regular trash bags. They are great for small retailers, general trash, small restaurants or any business that generates a small amount of waste. We will also deliver them to your location at your convenience, making it easy to set up each dumpster at your business.
2 Yard Commercial Dumpster Rental Cost
The cost of a 2 yard commercial dumpster rental will vary from project to project, but we work to maintain affordability regardless of your needs. Contact us at any time for an accurate and in-depth rental quote for one of our dumpsters at any time, and we'll provide you with a high-quality rental that you can use for any commercial project.
You can also ask about our other commercial dumpster rentals if you need a larger size for your project, with 4, 6 and 8 yard dumpsters available if you have a bigger project.