Vinyl, tiles, lino, parquet, sea rush, cork, or marble: which floor should you choose for your home? While some floor coverings have undeniable insulating properties, others are easier to install, and others allow you to decorate your new house efficiently. In a construction project, flooring plays an aesthetic role but also an economic and ecological role. We have put together a comparative guide of all flooring materials to help you make the best choice for your home, based on your budget, the latest trends, and the characteristics of each material.
How do you choose to floor for your home?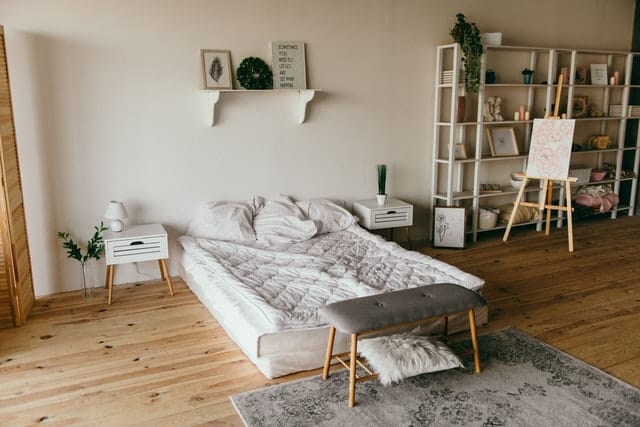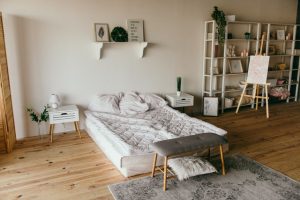 There are many different types of flooring, some of which are coming back into fashion, such as carpeting, and others that are making a strong entrance into the selection process, such as cork. They have their advantages and disadvantages, whether in terms of their resistance, durability, installation time, or compatibility with underfloor heating. Some floors require maintenance; others are made of natural materials. Available at different prices, they have different thermal and sound insulating properties. The different colors, such as black, white, beige, or wood imitation, bring different atmospheres to an interior. Finally, you can make your choice according to the level of your land and the room. Indeed, one type of material will be advised in a water room while another will be avoided.
To choose the right flooring for your home, you should therefore take into account several criteria:
•Resistance to stains and time
•Maintenance 
•Price 
•Insulation qualities
•Compatibility with the type of room.
Solid parquet, glued parquet, bamboo parquet, tiles, PVC or vinyl, waxed concrete, cork, linoleum, lino, sea rush, or laminate are examples of floors you can choose for your home. By following our advice before starting the work, you can choose the ideal floor to put in your shower room, kitchen or bedroom. Your builder will guide you according to your budget and your house plan.
Why tile as a floor covering for your home?
Tiles have been around for ages: they are a material that is still popular and has been modernized. If small tiles were popular when houses were built, they have been replaced today by larger tiles. Customizable with wood or concrete imitation, available in a wide range of colors, tile is a very resistant and easy to maintain floor covering.
One of the main advantages of tile is that it can be installed in any room, whether in the kitchen, bedroom, or bathroom. In this room specifically, you will have to make sure to take a non-slip floor tile. In addition, it is compatible with underfloor heating. There are two disadvantages to tiling: the sensation of cold that can be unpleasant, especially in a bedroom, and its installation, which is longer and more technical than linoleum, for example.
The advantages and disadvantages of parquet flooring: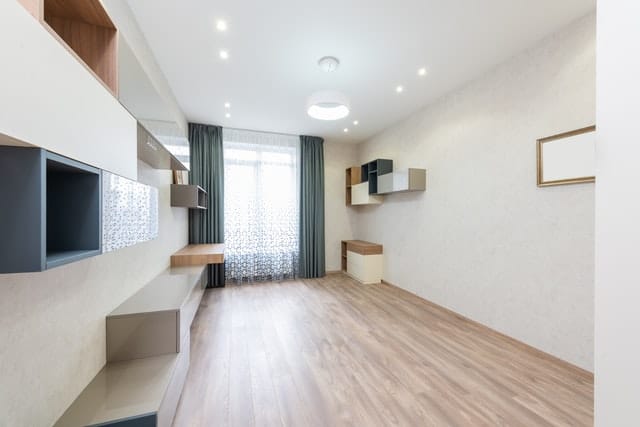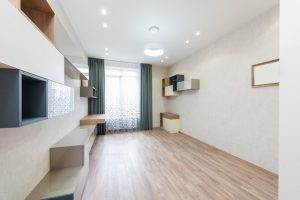 A parquet is flooring that gives character to an interior. With dark colors that bring a rustic touch or light colors that recall the Scandinavian design, wood offers an indisputable cachet and a feeling of warmth. There are four types of wood floors:
•Solid wood flooring
•Laminate flooring
•The parquet floor laminated or floating parquet
•Exotic wood flooring such as bamboo or teak
The solid parquet is made of a single wood species, such as pine, oak, or beech. In this, it is not a real wood floor. On the contrary, laminate flooring is made from wood powder and covered with a decor that imitates wood and stone or concrete. On the other hand, floating wood flooring is made up of three layers, of which only the last is solid wood.
Solid wood flooring must be maintained regularly to increase its life span. Although it is resistant and stores heat well, it is a poor sound insulator that may require installing a soundproofing underlay. Finally, it is recognizable by its creaking sound when walked on. Laminate does not require special maintenance and is available in special products for intensive use in entrances, hallways, or living rooms.
Technical characteristics of PVC flooring:
The PVC floor, or vinyl, is of chemical origin and therefore manufactured from plastic materials. Unlike tiles, installing a vinyl floor is very easy: glued installation for tiles or strips and glueless installation for rolls. PVC flooring offers good thermal and sound insulation. Waterproof and not fearing moisture, they are also anti-slip, anti-shock and anti-stain. Thanks to these features, vinyl can be found in every room in the house, including bathrooms and kitchens. Vinyl flooring is available in various patterns and colors that can match the color of the walls. Depending on your budget, you can opt for PVC planks, tiles, or rolls with wood, marble, or cement imitation.
Flooring made from natural materials: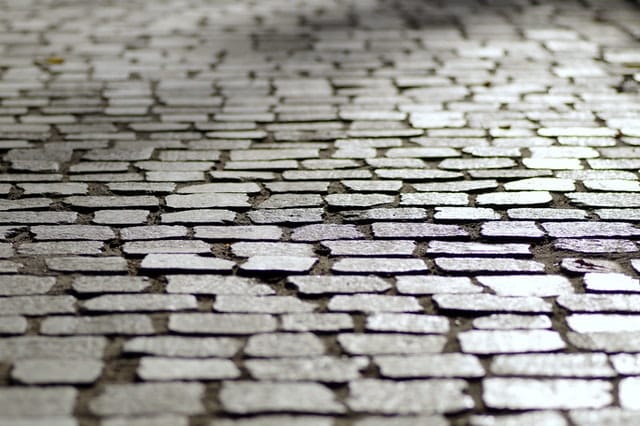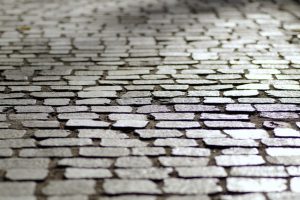 For your construction project, you can opt for natural flooring or flooring made from natural materials:
Linoleum is made from linseed oil, chalk, cork, natural resins, etc. Available in tiles or rolls, linoleum is quick and easy to install. It is a resistant product, easy to maintain, and has a good sound and thermal insulation. However, its use is not recommended in bathrooms. Finally, many patterns and colors are offered for sale, including imitation tile or parquet.
•Cork is mainly manufactured in Europe from the bark of cork oaks. Its ecological role is visible in homes since it acts as a depolluting agent by capturing CO2. Its installation is straightforward, and its qualities are numerous: waterproof, phonic, thermal insulator, and antibacterial.
•Stone floors like granite, marble, or slate are very aesthetic, resistant, and easy to clean. If the stone is treated, it can be placed in any room. Otherwise, it should be avoided in water rooms. By its very nature, this floor is not recommended for the first floor of a house.
•Waxed concrete is a material that is coming back into fashion. A mixture of sand, pebbles, and cement, it is impact-resistant but not very resistant to moisture or stains.
•Natural fiber carpeting such as coir, sisal, or sea rush. The sea rush, composed of plant fibers, insulates against the cold and also insulates phonically. It is an ecological covering but also an economic covering thanks to its low price. Finally, it should be noted that this natural fiber carpet retains moisture and is therefore not recommended in a kitchen or bathroom.
The best floor coverings for a bathroom: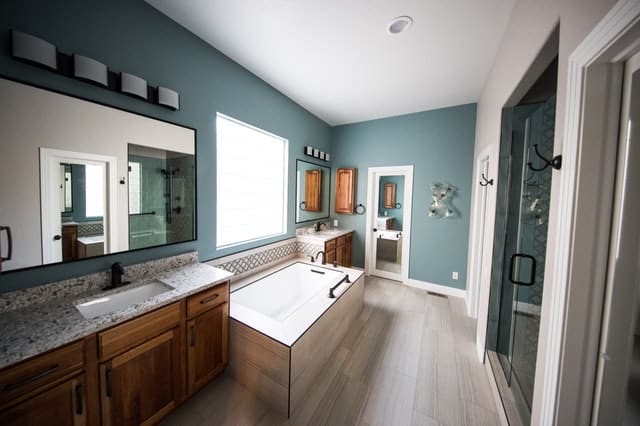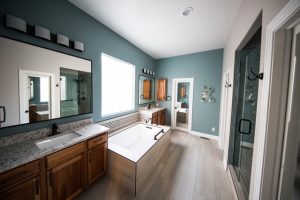 In the bathroom, the humidity level is critical and necessarily guides the choice of material for the floor and walls. During the elaboration of your project, before the launching of the work, your builder is with your listening and guides you in your choice. From the most classic to the most trendy, here are the materials to choose for the floor of a shower room:
•Tiles
•PVC or vinyl tiles
•Bamboo or teak flooring
Other floors can be used in the bathrooms of houses, provided they have first undergone a specific treatment:
•Waxed concrete
•Stone
•Solid parquet
•Laminate flooring
Which floor covering to choose with underfloor heating?
If you plan to install underfloor heating in your construction project, you will need to choose a suitable floor. Not all floors are suitable for this type of heating. Carpeting, for example, is not recommended. Here are the best floor coverings for an underfloor heating system:
•Tiles
•Stone
Being strong heat conductors, tiles and stone can save energy. However, other floors can also be installed in a house with underfloor heating:
•Waxed concrete
•linoleum
•Laminate, only for hydraulic floor heating systems, not for electric floor heating systems.
To conclude, if choosing the floor of his house brings an obvious aesthetic note to the construction, we must not forget the economic and ecological aspects. Indeed, the floor of your house allows you to save money in the initial construction budget and the budget of daily life, with the heating or the maintenance of the floor, for example.
 Utilize the fantastic content on our Instagram, Twitter, Facebook, and Pinterest pages to make your life easier!