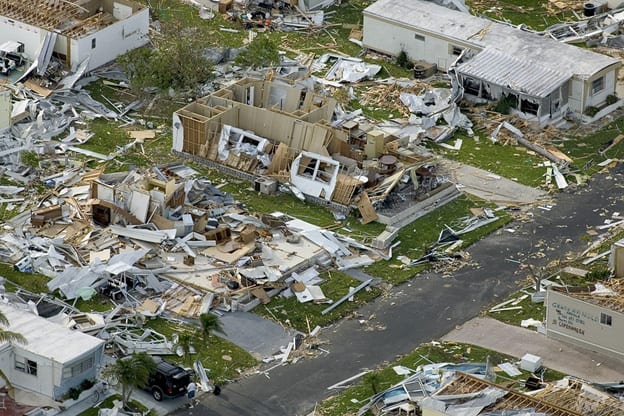 If you've fallen victim to a destructive hurricane, you know how hard recovery can be, and how long the reconstruction might last. Most likely, all you want is to leave the destruction behind and to continue on with your life. And to do this, you're going to need some help.
Cleaning up after a hurricane is much more heavy duty than your average spring clean-up. A lot of dangerous substances, including medications, various gases or other hazardous materials can endanger your health. Since you already survived the hurricane, the last thing we want is for you to get hurt during the clean-up.
So, to prevent you from falling victim to any additional harm, here are a few tips for safe hurricane clean-up:  
Get organized
The stressful situation caused by a hurricane can affect your mental state and prevent you from working effectively under pressure. Since you need to think quick and resolve all the problems fast, our recommendation is to begin from the most notable problem – rough cleaning.
Since a sizable hurricane-affected area usually causes general panic among citizens, it makes it difficult for authorities to help everyone with clean-up. Our recommendation is to take things into your own hands. Instead of waiting for help, you should rent a dumpster and start rough cleaning yourself.
If you decide to rent a dumpster (and you should), our recommendation is to rent with us at Bargain Dumpster. This company can provide you with various types of dumpsters, including:
Construction Dumpsters – suitable for rough cleaning after a hurricane.
Residential Dumpsters – suitable for detailed cleaning after a hurricane.
Commercial Dumpsters
Roll Off Dumpsters
Apart from this, Bargain Dumpster can also ensure better hygiene at a disaster-stricken area with portable restroom rentals.
Safety first
After you take a closer look at your property, you'll probably notice a plethora of broken glass, untreated wooden structures, hazardous materials, gas installations, and dangerous substances. Since all these things and materials can be of harm to you, it's crucial to rent or buy protective gear.
Resistant protective gloves, protective ear equipment, clothes resistant to various substances, and robust, impenetrable protective boots must be included in your protective gear. Only high-quality protective equipment can guarantee safety and enable you to avoid endangering your health.
Time to Rebuild
"Do It Yourself" sounds challenging and exciting, but after you clean up, you should hire an architect. A team of architects can create a more resistant and livable solution. That way, you, your property, and your community will be safer in case of another hurricane. Certain architectural solutions are more resistant to storms and other weather-related disasters.
Cleaning up and reconstructing after a hurricane can take much less time with the help of these tips. Excellent organization, renting the best available equipment, and a little help of an architect will make a huge difference in how you deal with the post-hurricane period.
For more information on our helpful dumpster rentals for post-hurricane cleanup, browse through some of our rentals!