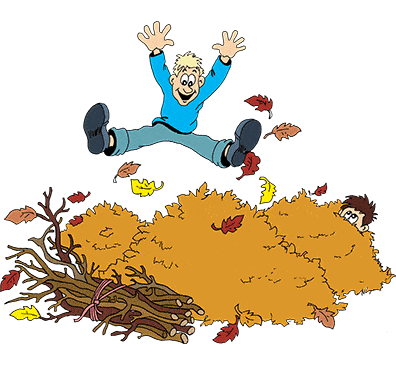 Yard Waste Disposal
Once you've got all of your yard waste together, what do you do with it? Here are some options to get rid of it. Some of these options may not be available to you depending on where you live, but there is guaranteed to be an efficient option in this article to dispose of your fall yard waste.
Composting
Agricultural waste, or green waste, includes leaves, grass, hedge clippings, brush, plants and flowers. Fruit and vegetable food scraps can also be included. All of these items are compostable, so you can use them to create compost that reduces disposal costs and gives you something to use in gardens, planting, flowerpots, flowerbeds or anywhere else you need nutrient-rich dirt.
This is the most eco-friendly option, but you have to have the space and time to allow the composting process to occur.
If you have a lot of leaves, grass, brush or small twigs, then yard waste bags are ideal to use. They come in both disposable and reusable options and can be found at a variety of home improvement stores like Lowes and Home Depot. Your waste service provider may even provide leaf bags and a leaf/yard debris collection on a weekly, monthly or annual basis.
These bags work well for small cleanups, but larger amounts of debris will require a different means of disposal.
Yard Waste Dumpster Rental
Consider renting a 10 or 20 yard dumpster for your residential or light commercial yard waste disposal projects. You could dispose of trees, garden waste or large amounts of brush and leaves this way. Bargain Dumpster is here to help if you have a large amount to dispose of.
If you want to include trees in your dumpster, you have to make sure the logs will fit inside the dumpster.
Large Cleanup Services
There can be a lot of debris after a major hurricane or storm comes through. Fallen trees must be processed before disposal, which is best left to the professionals, such as a tree removal company. Some junk removal companies have the equipment and expertise to process a tree and use loading equipment to lift heavy logs into trailers or dumpsters.
You can expect to pay $1,000 or more for storm damage cleanup. Insurance could cover some or all of the cost, however, depending on your coverage. Take pictures of the damage and call your insurance company to file a claim.
Yard Waste Pickup
If your waste hauler accepts bulk yard waste pickup, then you can arrange to have them pick it up for you. Yard waste is typically not allowed to be mixed with general waste, so make sure to use designated bags and call your waste hauler to see if yard waste pickup is available.
Your waste hauler may charge extra for yard waste pickup, so this may not be the most cost-efficient option, but could be the easiest disposal solution for you.
A lot of junk removal companies offer yard waste pick up, just call and request an estimate of the job. Once the price is agreed upon, the company will come out, load and haul away the yard waste. This could be the quickest way to get rid of your waste.
The Choice is Yours
Now that you've got some options, go outside and gauge the amount of yard waste you have and then decide on the best method for you. Whichever way you choose, you're on your way to a clean yard for winter.  Give us a call if you need additional help or would like to schedule a dumpster for delivery. (803) 573-0003