This year, to celebrate Halloween, turn your home into a haunted house! Here are a few simple ideas for the scariest haunted house on the block!
To avoid getting discouraged before you even start, think about decorating each room separately. It's easier to go room by room rather than create one common theme. Plus, your visitors will enjoy discovering a new world wherever they set foot… For example, you could opt for a laboratory in one room, a dank dungeon or macabre ballroom in another, etc.
The exterior and the yard of your haunted house…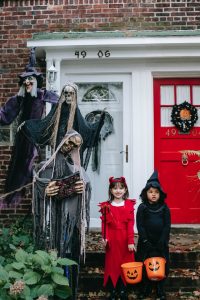 Path of Light
Create a path of light with several small, hollowed out and roughly carved pumpkins. Ideally, you'll put them on both sides of the driveway and even on the few steps to the entrance. You could also plant large sticks topped with a lighted skull.
Tombstones
Make large headstones out of cardboard and place them here and there in the yard to recreate an old cemetery. If possible, make a few piles of fresh dirt to symbolize new graves, and sometimes have a plastic foot sticking out, sometimes a skull, etc. Don't forget the epitaphs on the stones: the famous RIP is in order but be creative and invent new ones!
Scary chimes
Hang wind chimes in trees and bushes for a mysterious haunted house sound effect.
Disgusting Animals
Place small, disgusting animals (fake, of course) in specific places: a snake coiled on the staircase banister, a rat on the doorknob, a curtain of hanging spiders…
The interior of the haunted house…
Terrifying music
Install a CD player in the front room and play an appropriate record: evil screams and laughter, terrifying organ, etc. You can usually find these in drugstores and department stores.
Gloomy light
Replace ordinary light bulbs with red or green ones, dim the light by adding cloths to your lamps, in short, create a dark atmosphere.
Eerie candles
On a small table, place several candlesticks with lit candles: black, red, orange, etc.
And, of course, spiders!
Hang fake spider web on the walls and ceiling. Ideally, the web should brush against visitors as they pass by.
Beady eyes
Install glowing eyes on the walls. Your visitors will feel watched!
Disgusting pumpkins
Place a hollowed-out pumpkin on a table filled with plastic bugs and small LED lights.

Satanic Mirrors
Hang a large number of mirrors on the walls with scary eyes glued on them.
Hanging men
Hang bats, scarecrows, doll heads, crows, skulls, and other scary creatures from the ceiling.
Infernal Curtains
Create "curtains" between each room with giant garbage bags with bangs cut into them.
Full of dead people
No haunted house is complete without paper skeletons hanging in the windows.
Vampire blood
Set out large glass jars filled with fresh blood (water dyed red) or water and "torn-off limbs" (hands, feet, ears: you'll find it all in the $1 stores) here and there

Ogre Feast
In the kitchen, prepare a candlelit feast: a large bowl of green jelly mixed with tiny plastic spiders, ahead "roast" (a stuffed mask), bloody hands on plates, bowls of eye soup… Let your imagination run wild!
Corpse in bed
In a bedroom, make a skeleton comfortable in bed with a book on its lap. You could also offer him some company and sit a mummy next to him.
Shivering Ghosts
Create ghosts using large sticks and sheets and place them around the house. Use mini LED bulbs for their eyes.
Repulsive Coffins
Use cardboard boxes to make coffins for actors (if the coffins are big enough) or dolls in disguise.
The ultimate haunted house!
Remember that the "real" characters will create a unique atmosphere in your haunted house. Enlist the whole family and get your neighbors and friends to help. In addition to all of the above, monsters and other imaginary creatures will best scare visitors: witches, ghosts, werewolves and vampires, scarecrows, undead, clowns, etc. Have each of these extras stand in strategic locations to "gently" (or not) greet visitors. Sometimes all it takes is a breath or a pat on the back to make them jump to the ceiling…
Have fun! We wish you a lot of fun imagining your perfect and terrifying haunted house.