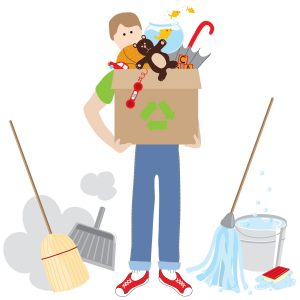 Whether you need to make room, get ready for renovations, or simply de-clutter your house – a dumpster can help you get rid of your junk. A dumpster rental allows you to have one place to put all the trash and debris, without having to worry about going to the dump every day or borrowing a truck. We'll also give you clear pricing right up front, so you always know what to expect.
When you've finished with your home cleanup project, our local haulers will come pick up the dumpster and you'll be completely finished! Everyone knows that a clutter-free home means a clutter-free mind — so if you're ready to feel more relaxed in your own home begin your junk removal project today. We'll help get rid of your junk!
We have many different dumpster sizes to choose from. Many projects could benefit from having a dumpster, including:
Garage Cleanup
Attic Cleanup
Hoarding Situation
Yard Cleanup
For some projects, you also have the opportunity to make money! Throw all the trash and gross items into the container, and save out the usable items for a yard sale or on craigslist. Since not everything hiding in your attic can be sold, be sure to rent a dumpster to help keep your home cleanup project moving smoothly.
Get Your Free Quote For A Dumpster Rental
If you are ready to learn how a dumpster rental can help you get rid of your junk, call Bargain Dumpster today at 800-856-2896! Our professional customer service team will be able to guide you through the process of renting a dumpster. We'll help you find the sized right dumpster for your project, schedule your delivery and removal, and go through our pricing.
We offer free quotes and service many areas around the United States, including the Southeast with our headquarters in Columbia, serving Columbia, Charlotte, Dallas, Houston, Phoenix, Atlanta, Charleston and many more areas through Texas, North Carolina, South Carolina, Georgia and more!