Whether you need to make room, get ready for renovations, or de-clutter your house – a dumpster can help you get rid of your junk. A dumpster rental allows you to have one place to put all the trash and debris without having to worry about going to the dump every day or borrowing a truck. We'll also give you clear pricing right upfront, so you always know what to expect.
When you've finished with your home cleanup project, our local haulers will come to pick up the dumpster, and you'll be finished! Everyone knows that a clutter-free home means a clutter-free mind — so if you're ready to feel more relaxed in your own home, begin your junk removal project today. We'll help get rid of your junk!
We have many different dumpster sizes to choose from. Many projects could benefit from having a dumpster, including:
Garage Cleanup
Attic Cleanup
Hoarding Situation
Yard Cleanup
For some projects, you also have the opportunity to make money! Throw all the trash and gross items into the container, and save the usable items for a yard sale or on craigslist. Since not everything hiding in your attic can be sold, be sure to rent a dumpster to help keep your home cleanup project moving smoothly.
Yard work and landscaping can be very labor-intensive and require good skill, patience, and equipment. Depending on the type of job at hand or whatever sized project you're taking on, it is always best to be prepared. There are many different things that you can do to their yard, which may include everything from simple clean-up to tree excavation. If you decide to turn your backyard into a Japanese Garden, for example, the sky is the limit for various ideas out there. If your project involves many debris and yard clutter, you may need to rent a dumpster to help make your clean-up (and your life!) much easier.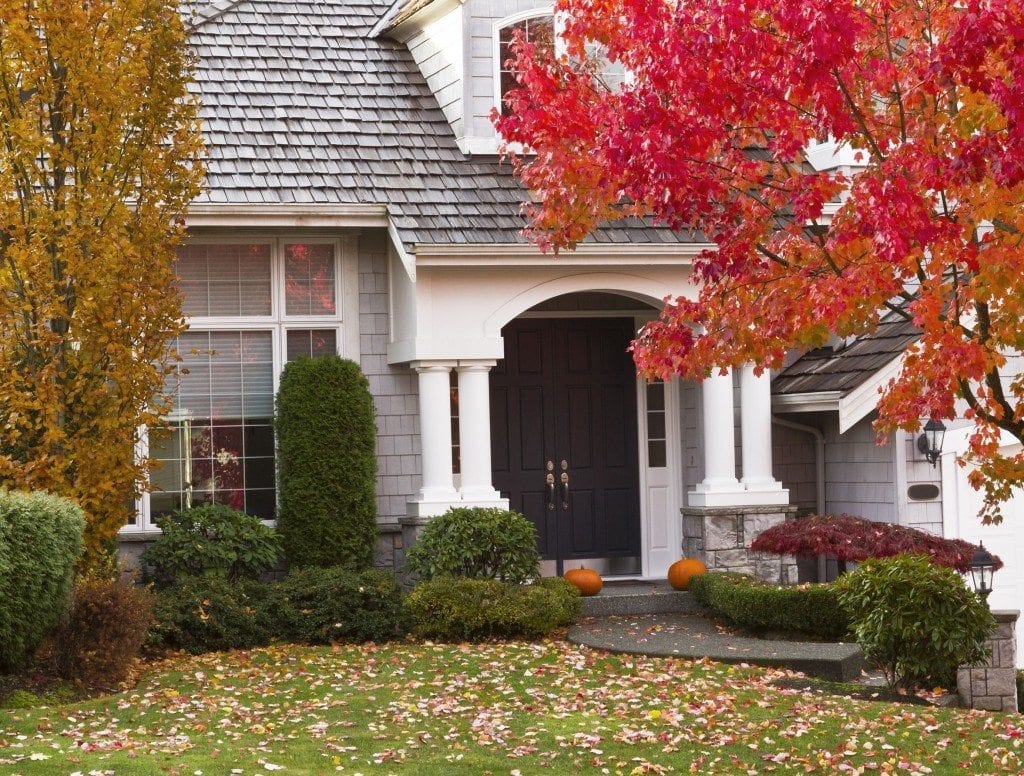 Debris Removal
For those jobs that will be more labor-intensive and require a lot of debris removal, one may consider a dumpster's rental. Dumpsters do come in various sizes, typically 10, 20, and 30-yard sizes. Dumpsters come in very handy for cleanup projects involving grass clippings, shrub, stump, and tree removal. They also come in great for fall cleanups where there may be many leaves and branches in the yard.
Choosing a Dumpster Rental Size
Now deciding the proper size may take a little more awareness and think about what will be completed because there is no reason to spend more money than need be. A 10-yard dumpster is about the smallest size that one will be able to rent. They will hold about a solid five pickup truckloads and would easily fit in a smaller driveway. The 10-yard dumpster will be close to about 8 ft. wide and 12 ft. in length while being 4 ft. high. For the smaller jobs and/or yards – a 10-yard dumpster would be the best available option.
Benefits Of Using A Dumpster
Keeping Clear – With any project, there will be a lot more trash than you expect. Whether it's old junk, appliances, or building materials – a dumpster can provide one easy place to put all of it. You won't have different piles of debris because you can put it all in one spot. A conveniently placed dumpster will keep your yard and driveway as clear as possible.
Easy Removal – If you're renting a dumpster, there's no need to drive to the dump every few days to get rid of the junk. You place it in the dumpster, and when you're ready, we'll come to pick it up. No need to borrow a truck or get your personal vehicle dirty.
No Extra Fees – You'll know the total cost of your dumpster rental upfront, so there are no surprises. If you're going to the dump every few days, you'll have a different fee every time, depending on the weight, type of debris, and more. By placing everything in a dumpster, you don't have to worry about extra or hidden fees.


1. Placing Your Dumpster – If you want to put your dumpster on the street in front of your house, you will need to check a few if you need a permit. Some cities and homeowner's associations require a permit to place the roll-off dumpster on the street. Be sure to check with them to ensure you don't get fined or delay your project.
2. Think About Sizes – We carry lots of different roll-off dumpster sizes to meet your unique needs. It's important to discuss your needs with our customer service representatives to help you decide which will be best for your project. Some small projects may only need a 10-yard dumpster, while larger projects need up to the 40-foot.
3. Make Room – Be sure to think about how the trash container will fit in your space. Our trucks will need room to maneuver and place your rental, and you'll need space actually to put things inside! Our customer service reps will help you in this process, making sure you understand how big these things actually are and how they can work with your space!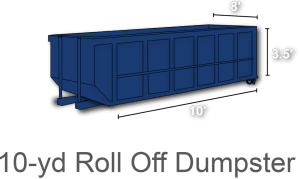 It's also important to determine how tall your dumpster will be. The larger sizes have very high sides, so that makes it harder to put your junk inside. You might need to use a ladder to help you place the trash inside the container.
Are you researching the best options for your home cleanup or renovation project? Bargain Dumpster provides many options and sizes for dumpster rentals! The 20-yard roll-off dumpster is one of our most popular sizes due to its capacity. The 20-yard dumpster is the perfect mid-sized roll-off dumpster for someone that needs a decent capacity but has limited space.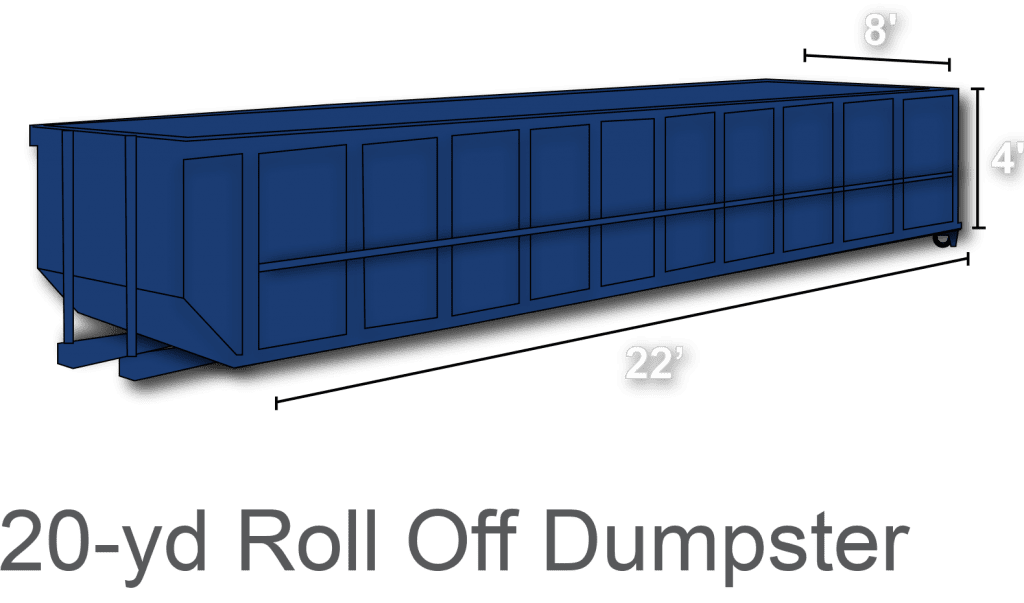 The 20-yard size is perfect for most projects are the house. The dumpster is not so large that it is hard to load, but it handles a good amount of debris. Smaller sizes are typically better suited for small one-room projects, while the 20-yard size is more flexible for residential or construction projects.
Additions
Roof Replacement
Garage Clean Out
Large Yard Projects
Moving
Disaster Clean Up
Kitchen Remodel
Master Bath
Man Cave Remodel
Game Room Remodel
Window Replacements
The dumpster can carry twenty cubic yards of material or roughly six full-size pickup truck loads of waste.
The 30-yard dumpster is normally used more for commercial purposes, a major home addition, new construction sites, or long rental periods. They hold 30 cubic yards of material or about 9 pickup trucks.
If you are concerned that a 20-yard dumpster is not enough space for your remodeling project or demolition job, the 30-yard dumpster is the rental for you! Capable of about nine full-size pickup truck loads of construction waste, the 30-yard dumpster is one of the best value dumpster rentals there is. If you are about to begin a full home remodel, new construction of a home, or any other large construction project, a 30-yard dumpster is exactly what you need!
The 40-yard dumpster is the largest and more commonly used for commercial and industrial purposes but is great for the entire window or siding replacement jobs. They hold 40 cubic yards of material or about 12 pickup trucks.
If you know you will literally have tons of waste; a 40-yard dumpster rental is a perfect decision. A 40-yard dumpster has the capacity to hold waste from almost any large construction project and is ideal for commercial contractors. Bargain dumpster works hard to give you the best possible price and perfect size dumpster to fit your job's space requirements and your budget.
Get Your Free Quote For A Dumpster Rental
If you are ready to learn how a dumpster rental can help you get rid of your junk, call Bargain Dumpster today at 800-856-2896! Our professional customer service team will be able to guide you through the process of renting a dumpster. We'll help you find the sized right dumpster for your project, schedule your delivery and removal, and go through our pricing.
We offer free quotes and service in many areas around the United States, including the Southeast, with our headquarters in Columbia, serving Columbia, Charlotte, Dallas, Houston, Phoenix, Atlanta, Charleston, and many more areas through Texas, North Carolina, South Carolina, Georgia and more!