Housekeeping is rarely a pleasant task. Yet, it must be done to live comfortably. Make it more enjoyable by using ecological and economical household products you have created yourself, thus joining the responsible consumption and zero waste movement. More than one in two is now involved. Below are some ecological management products that you can create yourself.
The Detergent
Did you know that only three ingredients are needed to make an effective, economical, and environmentally friendly detergent? It may seem hard to believe, but it's true. To make it, all you need to do is mix water, Marseille soap, baking soda, and possibly a few drops of essential oil for fragrance. It's effortless to make!
Start by boiling 4L of water, then off the heat, pour in 150g of grated Marseille soap and 100ml of baking soda. Stir until the mixture is homogeneous, let it stand until it is cold, then if you wish, add 8 to 10 drops of the essential oil of your choice.
With such a detergent, your laundry will be clean at a lower cost and without using toxic allergenic products for the environment. A grand gesture for your wallet and the planet!
Washing-up Liquid
If there's one product we use every day without really knowing what's in it, it's washing up liquid. It's simple, we all have a bottle next to our sink! But Unfortunately, supposedly "super degreasing" and "suitable for sensitive skin," most of the household dishwashing products you find in shops today are mostly filled with questionable surfactants.
Making your own dishwashing liquid is easy. But, again, you need less than five readily available and inexpensive ingredients: soda crystals, black soap, water, and essential oil of your choice.
In a container, mix five tablespoons of black soap with 500 ml of warm water, two teaspoons of soda crystals, and about 30 drops of essential oil. Pour this mixture into a bottle and enjoy your new washing-up liquid.
Window Cleaner
There is only one solution to see your house in order: window cleaning. In a previous article on window cleaning, we informed you that you could make your own foolproof window cleaner that is healthier and more environmentally friendly than those on the market. Follow the guide to find out how!
To make this household product, you'll need less than 5 minutes and only four well-known ingredients that you can pronounce (unlike methylisothiazolinone, a preservative often found in cleaning sprays and yet highly contested).
It's straightforward, mix four tablespoons of white vinegar, four tablespoons of alcohol, one glass of water, and about ten drops of the essential oil of your choice in a bowl. Then all you have to do is pour it into a spray bottle. In the end, the most challenging part will be finding the motivation to clean your windows.
The Multi-Purpose Household Product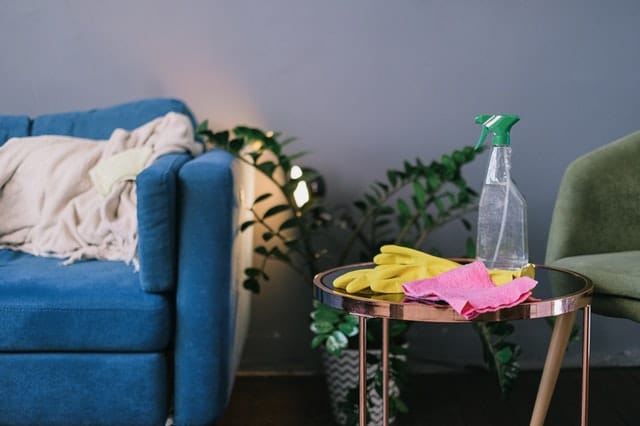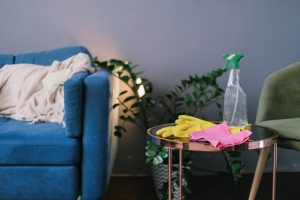 When you go shopping, it's easy to get lost in the household cleaning products aisle because there is so much choice, and every surface seems to have its own cleaner. If you don't want to collect household products and save money simultaneously, try our recipe for a multi-purpose cleaner.
For this household product, baking soda and white vinegar are your best allies. Pour one tablespoon of baking soda and the same amount of white vinegar into a liter of hot water. Use this mixture to clean everything from kitchen countertops to your sink, bathroom vanity, outdoor kitchen, and cabinets.
This multi-purpose cleaner will get rid of all stains and can be enhanced with a few drops of the essential oil of your choice for a more pleasant smell.
The Air Freshener
After a day's work, it's always nice to come home to a clean, fresh-smelling interior. This feeling is so pleasant that scented candles, incense sticks, and air fresheners are becoming increasingly popular, even though they contain toxic air pollutants.
So, if you can't trust a simple candle, which household product should you use to clean up your home? Try a homemade air freshener made from essential oils. It's simple, non-harmful, practical, and you can vary the scents regularly to avoid getting bored.
To create an air freshener, simply fill a glass bottle with 30% essential oil of your choice and 70% vegetable oil. When your mixture is done, insert reed diffusers in the bottle to allow the liquid to rise and scent your home.
Don't hesitate any longer; start creating homemade household products. You'll see that it's much easier than you think and that you'll be a winner in many ways!