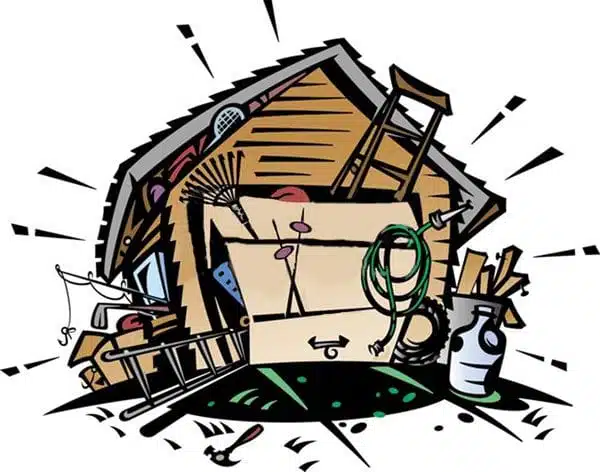 How to Clean Out and Organize your Garage
If you have a garage, the chances are at some point it's become the home to a lot of items you just can't seem to find another place for. It's just par for the course that at some point you're going to have to tackle the messes in the corners—or potentially the whole space if you've let it get that far. Here are some tips to ease the pain of organizing a messy garage. No matter what the size, if you follow at least a few of these tips the task won't be as daunting as it may seem right now.  The time for a garage clean out is now!
Why are you doing this?
First you have to figure out an objective for your work. What do you want to accomplish from your cleanout? Are you completely remodeling your garage or are you just looking to organize the space and get rid of junk you've stored in there for ages? Before you start any work, know what you would like your end outcome to be and work toward that goal. Here are a few things to consider:
How big of a commitment do you want to make to this project – if you are willing to set aside several weekends for a project, then make sure it's worth your time by completing a total reorganization, disposal or new storage installation during that time frame. If you don't want to take up that much time, though, then just plan to clean out the junk that's been building up for years in the garage.
Write it down – write down what you want to do and make a schedule for when you want to do it. Mark off time in your calendar so you know not to make other plans that will get in the way of your project. This may seem like an extra hassle to you, but if you have the task written down, you could be more likely to do it, or at least remember that you need to do it.
It's all in the details – don't walk into your garage with a haphazard plan, but have a set list of tasks to accomplish so you use your time efficiently and complete the task.
If you're not sure what to include on your list of tasks, keep reading for some ideas to get you started.
Disposal
What's the easiest way to free up space in your garage? Get rid of what's taking up that space. If you can't say that you need or use the items you find in your garage, then you probably need to throw them away.
You could rent a roll-off dumpster or hire a junk removal company if you want to pay a few hundred dollars, but if the job is small then you can just take the trash to the dump yourself. If a few items are salvageable, consider putting them on Craigslist or donating them to a local center, like Goodwill or Salvation Army.
Once you get rid of your junk, you may be ready to move to the next step of your project. If you're planning on completely remodeling the garage, however, then you will need to completely clean out the space.
Organization
When you've finally gotten everything out of your garage, it's time to put all relevant items back in again. Remember that every item needs a place, and you should base this placement on how often you use the item. If you only go biking once a month but grill out every weekend, you don't need to keep your bikes in front of your grill.
Consider installing hooks, hangers, cabinets, overhead storage and shelving to optimize the space you're working with.

Get smaller items off of the floor to make room for larger items you can't hang, like lawn mowers, snow blowers and freezers.
For example, most gardening tools can be hung on the wall.

If you have a lot of outdoor toys or sports equipment, consolidate all of it to one area by using a bin or multiple bins.
If you keep a lot of shoes and boots outside, consider installing a shoe rack to avoid stepping on rogue shoes in a dark garage.
Instead of using cardboard boxes, invest in some plastic stackable bins to store your smaller items to better protect the contents.
New Additions
If your garage is completely empty, now is the time to completely remodel if that's what you have set out to do for this project. You could install new flooring, such as durable floor tiles or epoxy flooring. This type of flooring is used in auto repair shops, and provides a non-slip surface. Painting the garage floor is also an option. Keep in mind, though, that the epoxy flooring and painting will need continuous upkeep through the years.
Investing in garage panels can be a smart decision because they allow for hooks to be installed anywhere on the panel. This type of wall setup can allow for multiple layouts as your accessibility needs change with the seasons or with the years.
You could also add overhead storage to increase the storage capacity of your garage, which can be completed by yourself or through hiring someone to do the work.
It's Up to You
The storage solution you choose will be based on your specific needs, most notably your time and budget. If you don't need storage space, though, then don't add it. Once you have your garage cleaned out, then you can have a better idea of the space you're working with and what will need to stay inside or be thrown away.
Get Started Today!
Even if you don't start cleaning out your garage today, you can start determining your plan of action. Use just one of these tips or all of them and get started on your garage project today. And remember to contact us if you decide you need a roll-off dumpster for the project. (803) 573-0003