The bathroom is where the day begins and ends. So, the bathroom, which was often relegated to the smallest and most closed rooms in the house, has become a space for relaxation and well-being. Logically, we want to feel good there. And so we pay more attention to it. So, if your bathroom is a bit old-fashioned, you're probably thinking of renovating it.
In this article, you will be provided with some ideas and advice. Whether it's a simple, low-cost makeover or a complete renovation of your bathroom, you'll find plenty of inspiration and help.
Before renovating your bathroom.

Choosing the right moment, without rushing.
A bathroom can't be renovated as often or as simple as a bedroom or a living room. So before embarking on such a project, you should take the time to think about it.
If you don't live in the house yet, this is the ideal time to do a complete makeover of your bathroom. It would be a shame to embark on such a project a few weeks or a few months after your installation and suffer inconveniences for a few days.
But don't rush into it. Even in this particular situation, it is important to think through your project and prepare it as well as possible.
Why do you want to renovate your bathroom?
Do you want to enlarge your bathroom? Reorganize it to make it more functional? Make it brighter, improve ventilation? Redo the plumbing, the electricity? Replace the faucets, sanitary equipment, or furniture?
Would you like to give it a new look using more modern materials and colors on the floor, ceiling, and walls? Or maybe a simple refresh will suffice?
As you can see, the possibilities are numerous and diverse. Some jobs are relatively simple, others more complex and expensive. You must, therefore, also define the budget you wish to allocate to this renovation. This will allow you to make better choices.
In this preparatory phase, do not hesitate to seek information and inspiration from a professional. They will answer all your questions and probably give you ideas you haven't thought of yet.
How to rejuvenate your bathroom without breaking anything.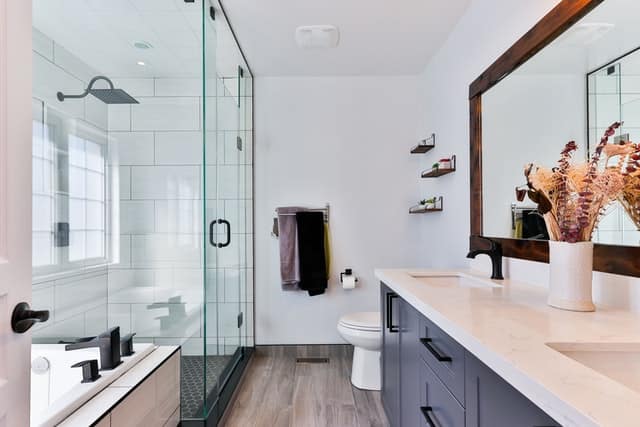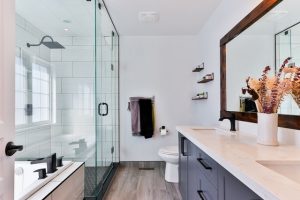 If your budget is limited or if, for other reasons, you do not want to embark on major work, it is still possible to give your bathroom a new look. And after all, unless you want to enlarge it or change its entire organization, small changes can be enough to make it much more pleasant.
Bleaching or redoing tile grout.
Among the elements that age the worst in a bathroom, tile grout is also easiest to renovate. If they are only yellowed by the double effect of limescale and soapy water or blackened by mold, a simple cleaning can already restore a clean appearance.
To do this, you can spray an anti-mold product. Let it act for about twenty minutes, and then rinse by rubbing if there are still traces of encrusted. If necessary, proceed with a second intervention.
If the joints more widely deteriorate, the operation is more technical. You will first have to remove the joints with a scraper. Next, remove any residue with a vacuum cleaner, and then clean the tiles well with a damp sponge before making new joints.
Choose a waterproof grout, which will stay clean and neat longer. And for a more original look, why not dare to use colored tile grout, red, green, or blue, for example?
Give your bathroom a lick of paint.
Another solution to rejuvenate your bathroom is to repaint it. Whether it's the ceiling, walls, or even tiles, painting can make it look new. You can even change the atmosphere by choosing colors, making it more in line with current trends.
Opt for special bathroom paints. They can also be more resistant to tiled or already painted walls, sometimes even without an undercoat. Before painting, remember to wash the surfaces and then rinse them with clear water and dry them.
Still, in the spirit of a makeover, rather than changing your bathroom furniture, you can also consider repainting it. Use a multi-surface paint that adheres even to varnished or melamine wood.
Replace the furniture and redecorate.
If painting is not enough, you can, of course, install new furniture and accessories in your bathroom. This is a simple way to address several concerns. In fact, in addition to personalizing the decoration, you will also optimize the space and make it more functional.
So consider attaching shelves to the wall. You can also install a closet so that it hides pipes or drains, for example. At the same time, it will allow you not to leave your towels, products, and toiletries lying around.
You can renew your bathroom accessories to add color and style. The possibilities are numerous between hooks, towel racks, soap dispensers, mirrors, garbage cans, laundry boxes, rugs, shower curtains, and more.
Finally, we don't often think of it for the bathroom, but you can also decorate it with a green plant, hang a frame, place candles or other decorative objects.
Improving the lighting in the bathroom.
For many reasons, good lighting is essential in a bathroom. And even if it has good natural light, there are always times of the year or day when it won't be enough.
White or light-colored walls and ceilings, and large mirrors can contribute to the brightness of the room. But it is also imperative to provide good lighting.
Ideally, the lighting system of your bathroom consists of :
•A suitable general lighting: a bathroom ceiling light or spotlights embedded in the false ceiling can diffuse light throughout the room;
•Functional lighting, essential for applying make-up or shaving: wall lamps, adjustable spotlights, spotlight strips, and bathroom light strips are handy for illuminating sinks, basins, and mirrors;
•And more incidentally, ambient lighting for moments of relaxation in the bathroom: this lighting will be more discreet and, unlike the first two, it can be slightly colored.
In general, choose a light close to natural light. And make sure that your electrical installation and lighting devices are up to standard.
Hire a professional to transform your bathroom.
Is your project more substantial? Can you spend more time and money on it? Do you really want a transformed, modern bathroom made to last? Then take the time to ask yourself all the questions, to consider all the possibilities. There are many possibilities. Here are some of them.
Increase your bathroom.
Is your bathroom too small? There are probably options to make it bigger. If you don't really need the adjoining room, it may be possible to knock down the partition. If you want to keep it but are willing to reduce the size, it would almost literally push out the bathroom walls. In fact, you could knock down one wall and put up another one a little further away.
Another current trend is to open up the walls. By integrating the bathroom with the bedroom or dressing room, you can really gain in volume. You'll feel like you can breathe better and see more clearly. You will feel good. Finally, by expanding and opening up to other uses, your bathroom will become more functional.
Create or enlarge the opening.
Rest assured, it is also possible to increase the feeling of well-being in your bathroom without changing its volume. One of the best ways is to bring in more natural light and fresh air.
If you only have a small window, see if you can enlarge it. If you don't have any openings, see if it would be possible to make one.
In any case, take the opportunity to install a tilt-and-turn window. By opening it wide in the traditional way, you can renew the air very quickly. However, you can also leave it open upwards for a long time in the tilt position.
If the window option is impossible, nothing is lost! Install an air extractor or other efficient and silent ventilation system. It will ensure constant renewal of the ambient air, which will prevent condensation and the development of mold.
Finally, you can partially replace a partition with a skylight to bring natural light into your bathroom. This will let in light from the neighboring room, for example.
Installing a new tile or other floor covering.
In the bathroom, tile is king! It is an excellent choice because it has two advantages:
•Practical: tiles are solid, resistant to wear and tear water, and the many products used in a bathroom;
•Aesthetic: tiles are available in many colors and shapes (squares, rectangles, hexagons, herringbones…) and can even imitate waxed concrete, stone, marble, metal, or wood.
Another convenient solution, PVC flooring, also has the advantage of being easy to install. Adhesive PVC tiles and vinyl rolls should only be applied to a smooth surface. On a rough floor, choose clip-on PVC tiles or strips instead. These can also be installed perfectly on existing tiles.
Many other choices are possible: parquet (teak, for example), cement or waxed concrete tiles, natural stone, etc. Whatever floor covering you choose, make sure it is compatible with use in a bathroom. It must have the following characteristics
•Waterproof, water-resistant, or at least moisture resistant
•Stain resistant and easy to clean;
•Ideally, anti-slip if you want to do without a mat when getting out of the shower or bathtub.
Installing a new shower or bathtub.
Because it is the main element of a bathroom and its raison d'être, changing the shower or the bathtub is an idea that comes up very often when you want to renovate this room.
In practice, you probably have a preference for either the shower or the tub. But your decision must also take into account the size and organization of your bathroom. In addition, you'll want to assess the available floor space.
In the smallest of spaces, you will have no other option than a small shower. On the other hand, a large bathroom allows you to consider a large shower or bathtub, or even a combination of the two. You'll want to consider the various options for placing each item in the bathroom.
For the shower, you must choose between the following 3 types:
•The shower tray is a shower tray that is particularly suitable for small budgets;
•The shower enclosure delivered in the kit has the advantage of being simple and quick to install;
•The Italian shower is more and more appreciated for its practicality, its accessibility, and its multiple aesthetic possibilities.
When choosing a bathtub, the options are no less numerous: straight, corner, or asymmetrical bathtub, built-in or island bathtub, free-standing or clawfoot, with or without doors…
Finally, whether it's a shower or a bathtub, the level of equipment goes hand in hand with the desired features: hydromassage, balneotherapy, light therapy, integrated music, etc.
Renovating a bathroom is serious business!
Whatever your initial idea for renovating your bathroom, it is important to think through your project. This article has presented you with the main options, but there are also many others.
Above all, because of its own characteristics, the bathroom deserves special attention. Therefore, any project should be seen comprehensively, for example, to check the electrical installation and all plumbing.
If necessary, it is better to take advantage of the work already planned in the bathroom to restore these systems to good condition and standards, rather than running the risk of new work in the short term.
For all these reasons, do not hesitate to contact expert advisors. A specialist will be able to advise you and help you better define your project without any obligation.