Renting a roll off dumpster can come with a lot of questions. Our expert team will work with you to clear up any questions you may have, but there are a few tips you can follow to keep your project going smoothly. If you're ready to start your project call us today at800-856-2896 for your free quote.


1. Placing Your Dumpster – If you want to put your dumpster on the street in front of your house, you will need to check a few if you need a permit. Some cities and homeowner's associations require a permit to place the roll off dumpster on the street. Be sure to check with them to ensure you don't get fined or delay your project.
2. Think About Sizes – We carry lots of different roll off dumpster sizes to meet your unique needs. It's important to discuss your needs with our customer service representatives so that they can help you decide which will be best for your project. Some small projects may only need a 10-yard dumpster, while larger projects need up to the 40-foot.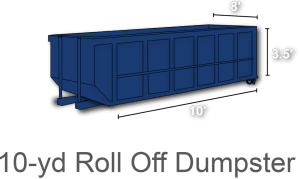 It's also important to determine how tall your dumpster will be. The larger sizes have very high sides, so that makes it harder to put your junk inside. You might need to use a ladder to help you place the trash inside the container.
3. Make Room – Be sure to think about how the trash container will fit in your space. Our trucks will need room to maneuver and place your rental, and you'll need space to actually put things inside! Our customer service reps will help you in this process, making sure you understand how big these things actually are and how it can work with your space!
Free Quotes For Roll Off Dumpster Rentals
If you are ready to learn how a dumpster rental can help you, call us at 800-856-2896! Our professional team of experts will be able to effortlessly hook you up with the proper sized dumpster for your next project.
We offer free quotes and service many areas around the United States, including the Southeast with our headquarters in Columbia, Charlotte, Dallas, Houston, Phoenix, Atlanta, Charleston and so much more!